BOZEMAN - There are hundreds of successful small businesses in Montana that don't operate out of stores or giant factories.
In this week's Montana Made segment, we visit a 30-year-old Montana business staying sharp from a Bozeman neighborhood garage.
"This business started 30 years ago with a simple dinner with a family friend," said Todd Orr, founder of Skyblade Knives. "In 1987 I was over in Ennis working for the summer at the fly shop over there and there was a friend of my family over there, Bob Shoup."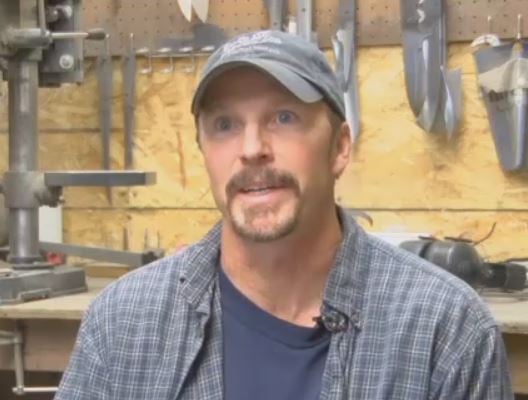 "He was knife maker in his 80's and he was over for dinner one day and said 'Hey want to come out to my shop and show you how to make a knife.'"
"So after work, I'd run out to the shop he showed me how to cut out some blades and do some different things," Orr said. "And just over a couple, you know a few weeks or a month I just went out there in the evening. He kind of helped me build this knife and got it all finished up.
"He (said) 'Wow you do pretty good work. I could use your help,'" said Orr. "And so that fall instead of coming back over to Bozeman for college I just took that quarter off and started making knives for him."
Orr did return to graduate from MSU and continued to make knives. When Shoup retired, Orr took over. And word got around.
"At one point I had oh, probably 15 art galleries and sporting good stores around the country that were selling my knives," said Orr. "But it was all on consignment - they're taking a 40-50 percent cut off the top. So after few years of that I finally developed my own website and got that up and my business just started expanding, blowing up from that."
From there Skyblade knives found the sky was the limit. Online-only sales, with word of mouth marketing. No storefront and no middlemen.
"I can just set up a little shop here in my garage and I've got people all over the world that that can find my knives now," Orr said. "I get phone calls or emails, or texts just about daily with questions about the knives or an order or 'hey my buddy has this great knife and I watched him gut his elk out with it I just need to get one' kind of thing, so the word gets around. It doesn't matter where I'm at there's going to be people out there now that are finding me."
Orr makes his knife handles from as varied items as a neighbor's tree stump to imported mammoth tusks from Russia.
And yes, he's the same Todd Orr who survived a grizzly bear attack last year in the Madison Valley.
Not bad for a chance meeting over a family dinner 3 decades ago.