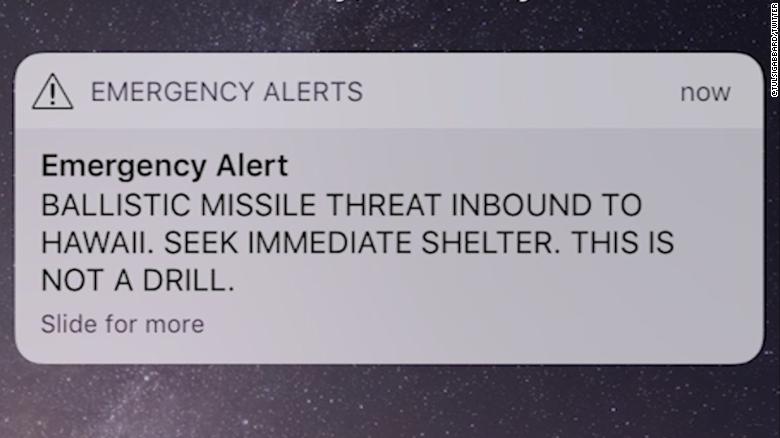 (CNN photo)
An emergency alert notification sent out on Saturday claiming a "ballistic missile threat inbound to Hawaii" was a false alarm, according to the Hawaii Office of Emergency Management and a tweet from one of the state's Democratic congresswomen.
"BALLISTIC MISSILE THREAT INBOUND TO HAWAII. SEEK IMMEDIATE SHELTER. THIS IS NOT A DRILL," the emergency alert read.
While the message caused concern on social media, the Hawaii Office of Emergency Management quickly responded on Twitter, saying, "NO missile threat to Hawaii."
Rep. Tulsi Gabbard also posted to Twitter, reassuring citizens that she has confirmed with officials that "there is no incoming missile."
Commander David Benham, a spokesman for US Pacific Command confirmed in a statement that there is no threat: "USPACOM has detected no ballistic missile threat to Hawaii," the statement read. "Earlier message was sent in error. State of Hawaii will send out a correction message as soon as possible."
The-CNN-Wire
™ & © 2018 Cable News Network, Inc., a Time Warner Company. All rights reserved.