BILLINGS - A proposed new high school in Lockwood could cost just under $50 million and would include an auditorium, three-story academic wing, two gymnasiums, a football stadium, library and a vocational education building, according to District Superintendent Tobin Novasio.
This option, on Lockwood's existing campus, would include capacity for 700 students and a parking lot with 700 parking spots. It was one of three options unveiled at a community meeting Wednesday night.
"What we're looking at right now is about 800,000 square feet of site cost and parking lots and landscaping and those types of things - improvements to the overall campus. The academic building will be about 154,000 square feet. That's right in line with what's needed to house 700 students," Novasio said.
The school would be built east of the current middle school campus. The parking lot would be built to the east of the elementary school, and the stadium would be located at the furthest point east of campus property.
The other two less popular options would cost $44.1 million and $47.6 million. Both include auditoriums, gymnasiums and stadiums. The cheapest option would lower student capacity from 700 to 600.
"Through our process, an auditorium has really come up as a huge priority in our community so right now we're looking at a 700 seat auditorium that would be available to the public as well. And we've talked about the possibility of bringing in some other activities ... it also includes a tournament gymnasium where we could host tournaments and also our home schoolers' basketball games," Novasio said.
Lockwood is currently a K-8 district but the Montana legislature passed a bill last spring allowing the district to potentially expand to K-12. Lockwood voters then approved a measure in November by a wide margin giving the district the authority to float a bond for a high school.
A second vote to determine bond costs to build the new high school is required within two years of the initial vote last spring. Trustees are aiming for a ballot on May 9.
They plan to set a firm price tag for the May election at a meeting planned for February 26, but that date is subject to rescheduling.
Wednesday night's presentation included costs for a bond on local taxpayers. A $50 million bond would cost $194.62 per year for people who own a $100,000 home, or $389.24 per year on a $200,000 home.
"As we move forward we'll be able to nail those numbers down a little bit more," Novasio said.
There will be additional public meetings coming up and Novasio encouraged members of the public to attend.
On Feb. 21 residents can attend a meeting to look up their home's assessed value and see what a new high school in Lockwood would actually cost them. This information is also available online through the Yellowstone County Treasury Office.
A meeting on Feb. 28 will look at a more specific plan for the potential new high school.
RELATED: Lockwood weighs on-site, off-site school expansion options
RELATED: Lockwood high school backers to discuss next step at Tuesday board meeting
RELATED: Lockwood high school supporters excited about election
RELATED: Lockwood voters to consider new high school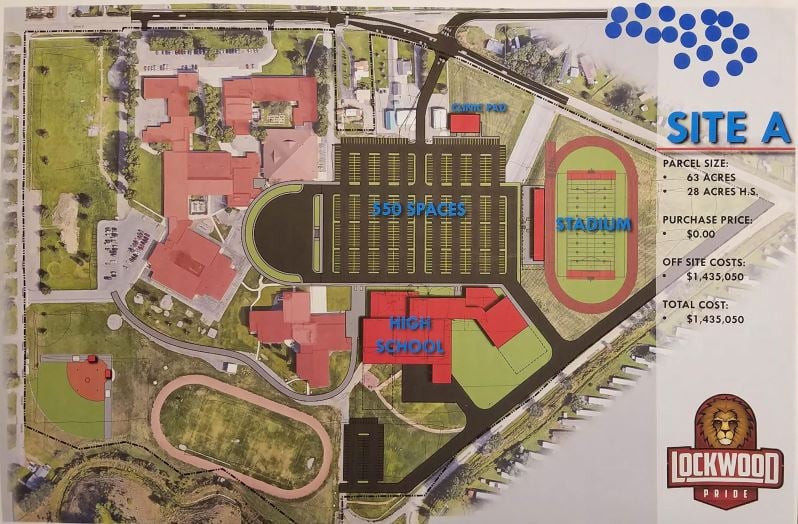 (Photo courtesy of lockwoodschool.org)